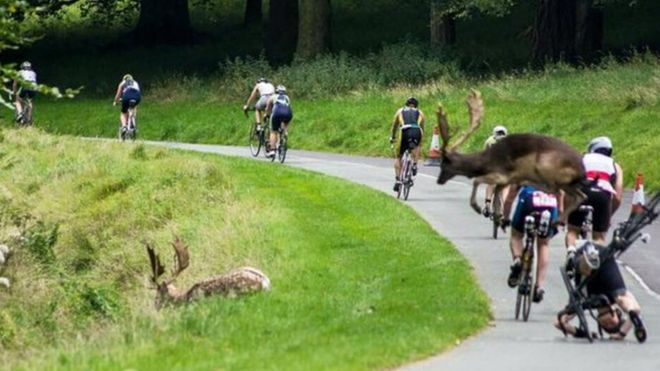 Triathlons are tough at the best of times, but one competitor in the Dublin city event got more than he bargained for when he and a deer collided.
Photographer Erik Scraggs snapped the moment Shane O'Reilly was struck by the animal as he cycled in Phoenix Park.
Mr O'Reilly from Blackrock in County Dublin told Irish broadcaster RTÉ that he was left with a cracked helmet following the incident on Sunday, but managed to carry on.
The park is home to around 500 deer.
"The helmet definitely saved me," Mr O'Reilly added.
"Apart from that, my shoulder was a bit sore and I had a headache."
The competitor completed the race in two hours 25 mins.
Mr Scraggs told the BBC he never thought deer would "try and leap over the cyclists".
"I had a feeling they might make their way across the cyclists' path, so I tracked them though my lens," he said.
"I never envisaged that they would actually try and leap over the cyclists. It all happened so fast, It was a really heavy crash.
"It was a relief to see the competitor get back to his feet and continue."
It is understood the deer has also recovered.
BBC.